EDITOR'S NOTE
Volunteering is an amazing opportunity for young people to chase their dreams and aspirations,
and cultivate their passions in life.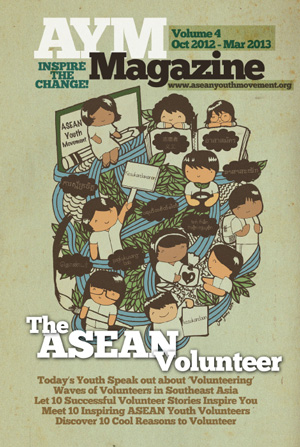 As a youngster, I remember helping to clean dishes from morning offerings at the temple in my village. In university, I traveled to rural areas to teach students English. Whenever I volunteered my time to help others, both the smile on my face and my heart grew bigger. I gained so many wonderful experiences in my life through volunteer work.
Today, we are faced with many challenges occurring in our communities: flooding and natural disasters, food shortages, children in need of teachers and schools, and elderly in need of care. Our societies are calling for young people to be part of solutions for the future.
This issue, 'The ASEAN Volunteer,' offers some exciting articles. Our 20 contributors will take you to 10 Southeast Asian nations in stories about how young people in each country are volunteering to help their communities. You will find inspirational stories about successful volunteer efforts from various youth organizations across the region, and you will meet 10 incredible youth volunteers from each ASEAN country. Plus, we present '10 cool reasons to volunteer' that will encourage you to look for and find volunteering opportunities in your own community.
The Earth is weeping…children are crying…the rivers are sobbing…the air is growing more polluted. What are we waiting for? Start volunteering in your own communities, and be a part of creating a caring and sharing Southeast Asian society and community. Pack your bag and go volunteer now!!!