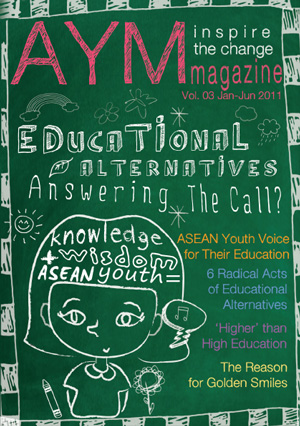 Educating Ourselves, Redirecting Our Future
"You have to study hard so that you can get good grades, so that you can enter good a university, then get a good job, get a good salary and achieve your most desired dream in the future" These were the lessons that my parents taught me when I was little. And I believe that almost everyone had heard these lines when they were younger or even until now. But once we got older, we've become more insightful and curious about our life and everything that surrounds it. We discover many things, commit mistakes and learn from them. Moreover, we've become more sensitive and critical on events happening in ourselves, family, friends, community, society and around the world. At the end of the day, we somehow become our better selves because of our improved understanding of the world. This is the ideal cycle of one's education.
Education for the sake of earning a good amount of money, I believe, might not be enough in making us fully capable of changing the world. Real education should advance best aspects of both local and global values. It must inspire young people as our future leaders and followers to become good children, active community members and effective citizens. One must understand his/her responsibilities in helping create a better world for everyone.
In 2015, ASEAN Member-States are engaging governments and their peoples in the most awaited "ASEAN Community". Are WE really ready for this transformation? As I write this editorial page, Southeast Asian youth are still struggling with heaps of personal and social challenges. They are faced with the threats of irresponsible development projects, discrimination, illnesses, natural disasters, corruption, climate change, high rates of illiteracy and lack of meaningful spaces for participation. With
these challenges, still taking place, I couldn't help but wonder, what lies ahead in the next few years? How can we make a more resilient and effective ASEAN community in the next few years? We must acknowledge these realities right now and, definitely, the answer lies on our hands.
Quality education is the basic foundation of our knowledge and wisdom. It is our only way to make ourselves capable in improving our lives and the lives of others. Our beloved region is in dire need of young people with the will to learn more about life and its wonders, who value their communities, who have deep social awareness, who are innovative, creative and who respects cultural diversities.
This inspiring issue, for and by the youth, on 'educational alternatives' aims to encourage YOU, the future leader of ASEAN, to reflect, rethink, relearn and unlearn in order to inspire you to join the movement in redirecting and shaping our the future of our region. I strongly hope that we join hands in making a more
sustainable and building a more peaceful and a just Southeast Asian region and Planet Earth! Our ASEAN! Our Spirit! Our Sustainable Community! Netting Jaruwan Supolrai
Editor